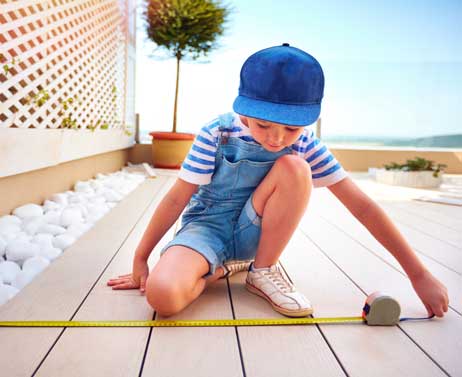 Customize Your Swing Set for a Small Space
June 16, 2020
Don't let your small, outdoor space get in the way of purchasing a playset for your child. Just like yards, they come in all shapes and sizes! Learn how to customize your swing set to best utilize your outdoor space.
Build Up
First, we encourage you to get the idea that "bigger is better" out of your head. Give consideration to playsets that are built tall, and not wide. For example, Model 3400A has a play tower, telescope and steering wheel up top, and a tire swing below. Builds like this are a great solution for small backyards, or even outdoor patios in urban settings, and guarantee the same amount of fresh-air fun!
Transform Over Time
Working with a company like Green Tree Woodworks, gives you the ability to transform your swing set over time. Today, many playsets are pre-designed to include all of the bells and whistles at once, which often makes them larger in size. A set that allows you to switch out its components will allow you to save space and evolve to best fit your child's outdoor adventure needs. Check out some of the features that can be easily switched out.
Add-on Accessories
Customizable, space-saving accessories take up little space, add a punch of fun and help jump-start the imagination. Popular add-on accessories usually include binoculars, cargo nets, rock walls, bubble panels, megaphones, fireman's poles, tick-tac-toe boards, telescopes, and ship's wheels to name a few! Check out the possibilities!
Green Tree Woodworks offers a variety of pre-designed swing sets and playsets for you to choose from. We also offer the ability to customize your selections — this is especially useful when you need one tailored to fit your space! If you don't see what you're looking for, feel free to contact us!
To stay up-to-date on the latest Green Tree Woodworks news, follow us on Facebook and Instagram.