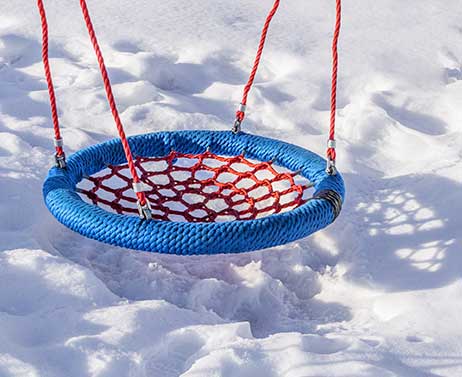 Ensure Your Swing Set Can Weather the Winter
October 12, 2020
While most of us look forward to that first snow, the winter months can also bring that unwanted cold weather, freezing rain, and ice. If you are a backyard swing set owner, these upcoming weeks are an important time to begin taking action to winterize your swing set or playhouse. Keep reading to learn our top tips for keeping your swing set in tip-top shape during the winter months that lie ahead.
Complete a Maintenance Check-Up
To keep your swing set in its best condition, frequently inspect your set for any issues, and address them before the winter months hit. Some things to check for can include loose screws, cracked wood or plastic, rust, mold, and/or insect damage. You can also note any normal wear and tear that may need to be fixed. By addressing these issues when they arise, you are preventing larger problems down the line. 
Hold a Quick Clean-Up
It's important to clean off your swing set before the winter months set in. Wet leaves and other debris can soak into the wood causing undesirable mildew damage or mold. Once your swing set is clear, wash it down with a hose and mild soap. If you choose to use a power washer, make sure to use a gentle setting as it may damage the wood. Keeping your swing set clean will help the wood keep its appearance over time and make restaining and resealing easier.
Reseal and Restain
If you have a wooden swing set or playhouse, one of the best things you can do to enhance its lifespan is to consistently seal and restain it. We recommend every 4 years, but you can do it more often (1-2 years) if you prefer. There are all sorts of sealant and stain options, so make sure to check in with your manufacturer on what they suggest. 
Cover What You Can
If you live in an area that has very cold and snowy winters, and you are certain your kid won't be eager to play outside, you may want to consider covering the entire swing set with a tarp or perhaps just portions of it. This will help keep it safe from the elements and extend its longevity. Another option is to remove parts of your swing set that run the risk of being weighed down by heavy snow, such as the slide, swings, rope ladder, or playhouse roofing.
Winterizing your swing set is one of the best ways to maintain its appearance, ensure your child's safety, and lengthen its overall lifespan. By following these useful tips, you are one step closer to creating memories that last a lifetime.
With over 25 years of experience, Green Tree Woodworks specializes in creating adventure with our handcrafted swing sets and playsets. Whether you're considering purchases a pre-designed swing set or customizing your own, we are here to help. Contact us today to learn more about our competitive pricing and delivery and setup services.
To stay up-to-date on the latest Green Tree Woodworks news, follow us on Facebook and Instagram.