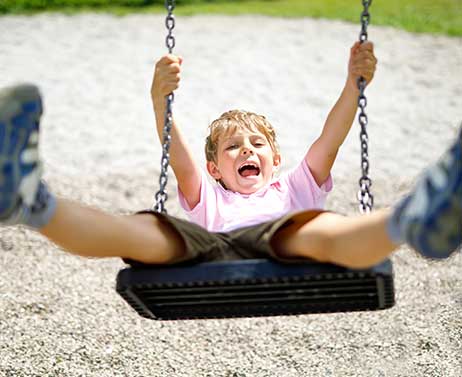 Oh, What a Swing can Bring!
July 21, 2020
Playing outside has a variety of advantages for children, however, simply swinging on a swing has its very own list of benefits!
Motor Skills & Coordination
In order to swing, there are a lot of physical responsibilities your body must be able to complete simultaneously to be successful. Not only does a child have to learn to "pump" their legs, but they also have to coordinate the movement of their legs with their arms and hands as they grip onto the ropes and leverage their bodies forward to reach higher heights.
Social Development
While swinging can be done on its own, it can also be very social. If there are only a few swings available for multiple kids to play on, they must learn how to share and take turns—heightening their communication and cooperation skills. This exercise also helps build patience.
Sensory Development
One of the greatest joys of swinging on a swing are the sensory benefits it brings. Reaching higher heights, feeling the wind hit your face, and experiencing your stomach dip all help children develop the ability to acclimate to different sensations—this also helps their focus in the long-run.
Physical Health
Swinging is a great source of physical activity that helps increase strength and endurance! While muscles in the arms, legs, and the body's core are actively engaged, the body's joints, tendons, and ligaments are also being conditioned.
Endorphin-Rising
Swinging, and climbing to new heights, is a natural endorphin booster and is guaranteed to bring a smile to a child's face. Just think, "When was the last time you saw a child frowning while on the swings?"
Green Tree Woodworks offers a variety of pre-designed swing sets and playsets for you to choose from. We also offer the ability to customize your selections — this includes a wide variety of swing types to best fit your child's age and needs! If you don't see what you're looking for, feel free to contact us!
To stay up-to-date on the latest Green Tree Woodworks news, follow us on Facebook and Instagram.