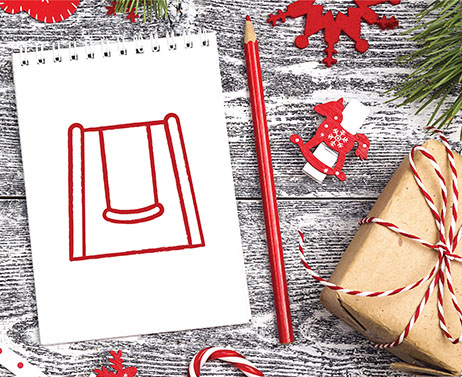 The Perfect Addition to Your Kid's Holiday Wish List
November 23, 2020
The holidays are just around the corner, and we are sure your kids are already busy drafting up their holiday wish lists. Instead of adding to their growing collection of video games and gadgets that will keep them inside, surprise them with a customized Green Tree Woodworks swing set or playhouse! In fact, it's a gift that your entire family can enjoy together this winter.
(Family Fun Tip: We recommend decorating it together with twinkle lights, gathering in the tower for some hot chocolate, or using it as a fortress during the seasons' first snowball fight.)
As the experts of backyard fun, we guarantee your kids will look forward to bundling up (despite the colder temperatures) to enjoy this backyard addition. Our swing sets are packed with fun activities and accessories for kids of all ages to enjoy. They will warm up in no time as they race to ride the swings and climb the tower to enjoy a few rides on the slide.
In addition, by the time springtime rolls around — when swing sets are in high demand — yours will already be outside waiting to be enjoyed!
Does your household already own a Green Tree Woodworks swing set or playhouse? That's okay, we got you covered!
Shop our variety of accessories and extras to add new features to your pre-existing swing set to increase the fun and adventure! Or, surprise your kids with our wooden wishing well and picnic table — which can serve as an arts n' crafts station in or outside your home!
With over 25 years of experience, Green Tree Woodworks specializes in creating adventure with our handcrafted swing sets and playsets. Whether you're considering purchases a pre-designed wooden swing set or customizing your own, we are here to help. Contact us today to learn more about our competitive pricing and delivery and setup services.
To stay up-to-date on the latest Green Tree Woodworks news, follow us on Facebook and Instagram.