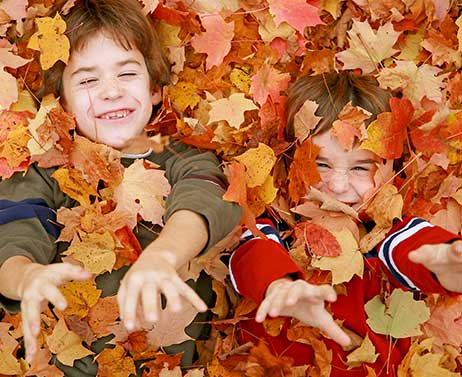 10 Fall-Inspired Ideas to Get Your Kids Outside
September 17, 2020
The winter months are quickly approaching, and if you're like us, you've been spending a lot more time at home these past few months! So, it's important to get your kids outside while you still can. Check out these 10 fall-inspired ideas to get your kids out from behind their screens and begging to go outside.
Pumpkin Decorating. Head to a pumpkin patch, or local grocery store, and let your kids pick out a pumpkin or two to decorate. For easy (and safe) decorating, load up on markers, stickers, and paint. Setup space outside and let them have at it!
Backyard Camping. Before it gets too cold out, set up camp for your family to enjoy in your own backyard. Make s'mores, tell ghost stories, and enjoy the spooky nighttime sounds. If you have a Green Tree Woodworks swing set, this can even serve as your campsite.
Build a Scarecrow. Challenge your children to build a scarecrow using only items from around, and outside of, the house. Showcase in your front yard for your neighbors to enjoy.
Mums the Word! Pass on your green thumb and plant some mums with your children. If you want to keep them outside longer, encourage them to decorate the pots and planters which will be used.
Build a Fort. If you have a Green Tree Woodworks swing set, you are already halfway there. Use pillows, blankets, and outdoor lighting to make it a space your kids can enjoy during day and night.
Leaf Collection. Task your kid(s) to collect as many leaves as possible and work to identify what type of leaves they are.
Scavenger Hunt. Create a list of nature items most applicable to the fall season and send your kids off to collect. Perhaps even hide some treats for them to find.
Fall Art. Using paper and crayons, show your kids how to trace leaves to admire their intricate details. Or, challenge them to create a masterpiece using only yellow, brown, red, and orange items found outside.
Raking Leaves. While we may see it as a chore, kids often see it as an opportunity! Encourage your kids to rake the largest leaf piles to jump in! Or, provide them with bags to stuff and decorate to look like pumpkins.
Enjoy a Swing Set. A swing set is a perfect place for your child to cozy up, drink hot chocolate, or burn off that extra energy. Explore the variety of wooden swing sets and playsets we have to offer.
With over 25 years of experience, Green Tree Woodworks specializes in creating adventure and memories that last a lifetime with handcrafted swing sets and playsets. Whether you're considering purchases a pre-designed swing set or customizing your own, we are here to help. Contact us today to learn more about our competitive pricing and handcrafted products.
To stay up-to-date on the latest Green Tree Woodworks news, follow us on Facebook and Instagram.