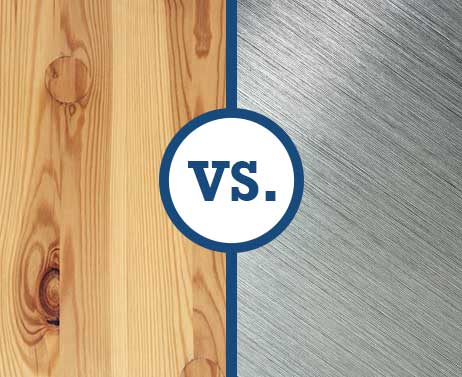 Choosing Your Swing Set: Wood vs. Metal
August 21, 2020
When choosing the perfect swing set for your child, there is a lot to consider! Playsets come in all shapes and sizes and offer a variety of accessories and finishes, but not all are built to last. Keep reading to learn more about the differences between wooden and metal swing sets, and what to consider when looking for your perfect set.
If you're already set on a customizable wooden swing set, check out our wide variety of models.
Now let's get down to the differences.
Weather-Friendly
Unlike wooden swing sets, metal swing sets fluctuate with the temperatures outside. In hot summer months, metal swing sets can be extremely hot to the touch (especially if they receive direct sunlight) and can cause some discomfort to play on. Of course, the same happens in the winter with freezing temperatures. Both materials, however, if quality-constructed, can withstand your everyday typical weather woes.
Maintenance
Between the two, wooden swing sets require more maintenance if you really want them to last a lifetime. We recommend for best performance to re-stain a wooden set every 4 years. Metal swing sets on the other hand need minimal maintenance other than a fresh new coat of paint every once in a while.
Aesthetics
There really isn't a clear winner here since aesthetics are a personal choice. A wooden swing set's natural material allows it to blend in more with your backyard setting. While the main structure is made of wood, a pop of color (or two or three) can be added with the selection of your accessories. Metal swing sets, on the other hand, stand out a bit more due to their manufactured materials. However, they can be painted whatever color the owner desires which some people prefer!
Durability
While metal swing sets are often selected for commercial playgrounds due to their durability and lower need for maintenance, they aren't always the best choice for residential needs. Depending on the quality and steel gauge, metal swing sets can somethings bend in shape or begin rusting and corroding earlier than you would like. Wooden swing sets may require more maintenance throughout the years, but if this is kept up, and the wooden swing set is constructed of high-quality materials such as the No. 1 Grade Yellow Southern Pine we use, it will bring happiness for years to come.
Customizable
Wooden swing sets and playsets allow you to customize and add-on features throughout the years. For example, the area underneath your playset tower can hold a tire swing for the first few years and then be replaced with a picnic table for crafts, games, and lunchtime. Metal swing sets on the other hand aren't as easy to customize without having to be innovative on your own.
Regardless of which type of swing set you choose, safety should always be your number one priority. At Green Tree Woodworks, we believe that "Quality Comes First" when it comes to the material, construction, and installation of your swing set or playset. Other than our exceptional swing sets, "wood" you like to know what really sets us apart? Learn more here.
To stay up-to-date on the latest Green Tree Woodworks news, follow us on Facebook and Instagram.